______ Post Practice Hotel
Post practice is passionate about providing two services. Firstly, the opportunity to stay in an amazing environment. Secondarily, to develop people in their creative passion. We believe that whether you are an individual looking for a change in career or a person who is seeking training through creative workshops, we can offer you an enjoyable stay and skills that will stay with you for a lifetime.

The Purpose_



Post Practice was a collaborative project aiming to conceptually transform one of the rooms in the Sheffield Institutes of Art building (SIA) into a hotel room. The Head Post Office's history and architecture combined with the contemporary context of the SIA'S inhibition of the space was a brilliant starting point. The project included creating a brand identity for the whole experience from choosing a suitable room, creating a wayfinding system to a welcome pack. In a busy creative environment, it was crucial we incorporated this into our identity. We wanted to create a meaningful stay and believe that creativity is within everyone and we should all have the opportunity to explore it. Sometimes the only limitations we have is time, in this stay we have designed the time to indulge creative passion.


The Experience_

Post Practice Hotel is unique in the sense that it is derived by history inspiring the look and feel of the hotel. Post Practice is enriched with the historical nature of the building as well as combining more contemporary components. It's a chance to unwind and explore creative avenues. The combination of both old and new allows for new ideas to be explored while preserving the cultural heritage of the Head Post Office Building.


The Design_

Post Practice's rich heritage inspired style design provides visitors with a welcoming home away from home stay. The rich local flavour is hidden within the walls, the strong personality is expressed through the art and design featured throughout. A chance to explore the surrounding area allows guests to meet locals and see what Sheffield has to offer.

The Post Practice Hotel is centred around the idea of the arts: meaning the visual elements are what carries the brand culture. The colour palette speaks for itself: modern, yet historical, while displaying Post Practice's strong personality. With such a strong colour system, adding the graphic elements not only compliment the word mark typeface, but also can be used in different systems and applications. The heritage of the Building the experience sits in is explored in the logo stamp. The geometric forms found throughout the brand identity were derived from the typeface Woodland (the logo). The sharp serifs, and geometric forms create beautiful shapes.
Post Practice Brand Deck (Click below)︎
https://issuu.com/chloetribe/stacks/d042f0726e964731ab3a4e8d34c53c02
Collaborative process︎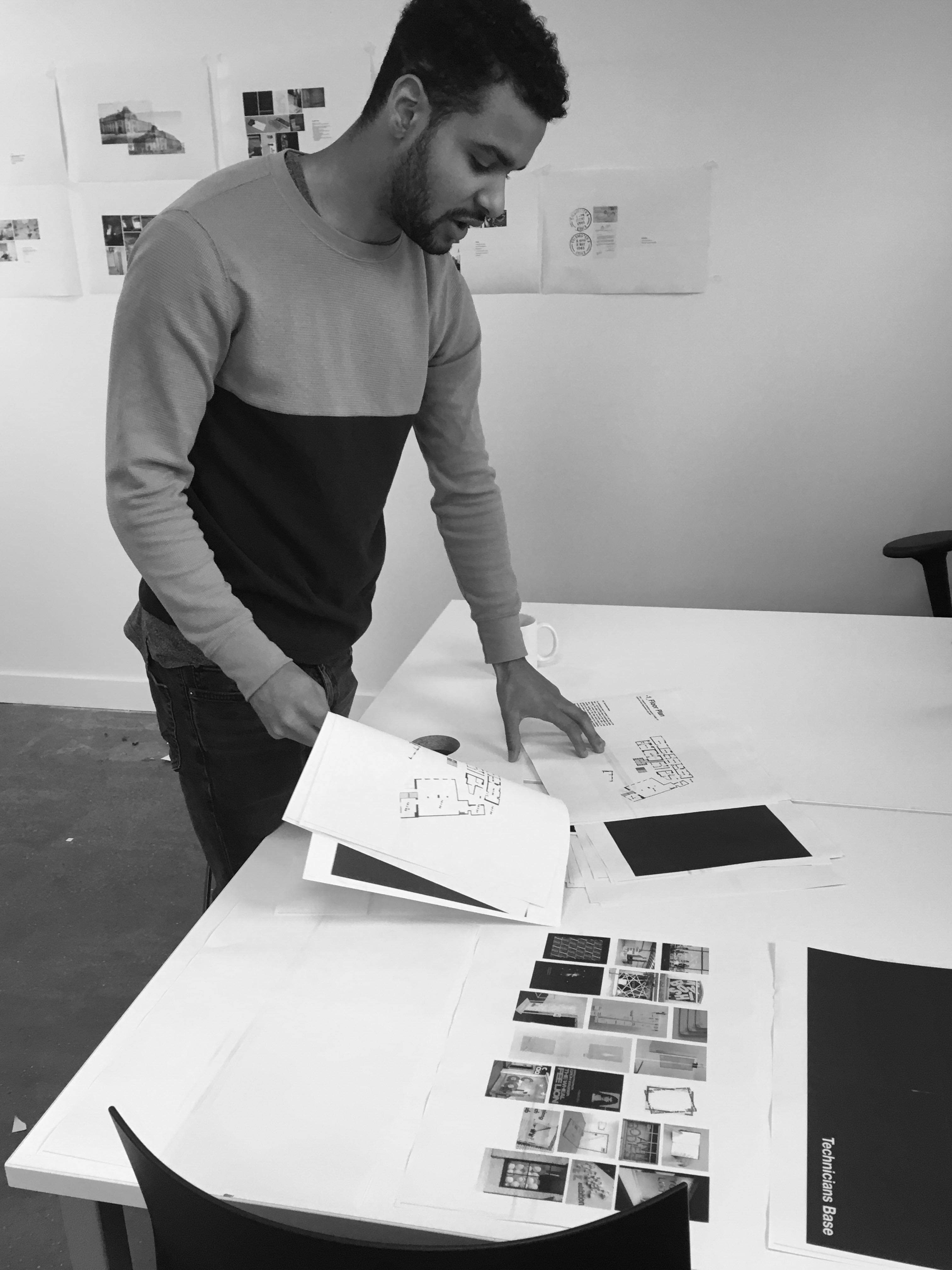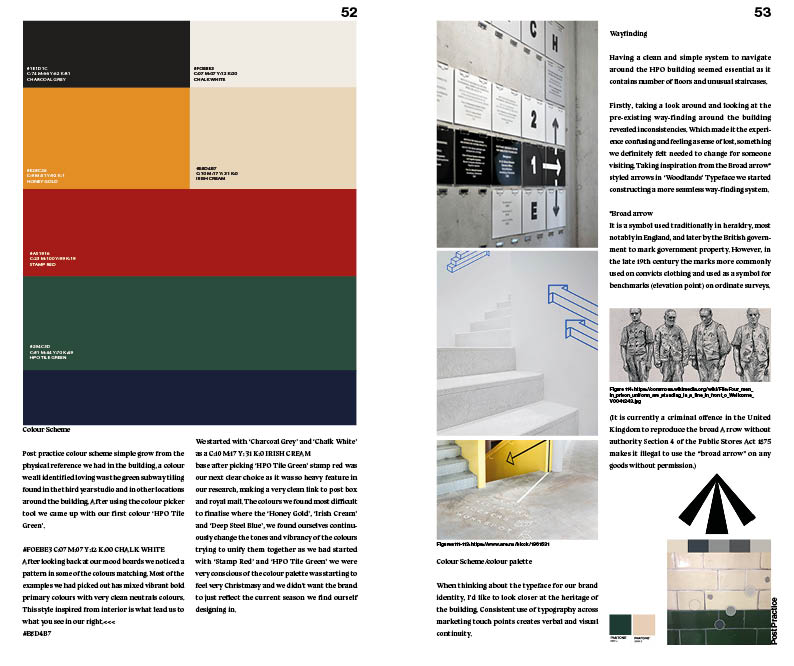 Hotel branding moodboard/room sketches︎
Click to look inside the Post Practice Brand Guidelines ︎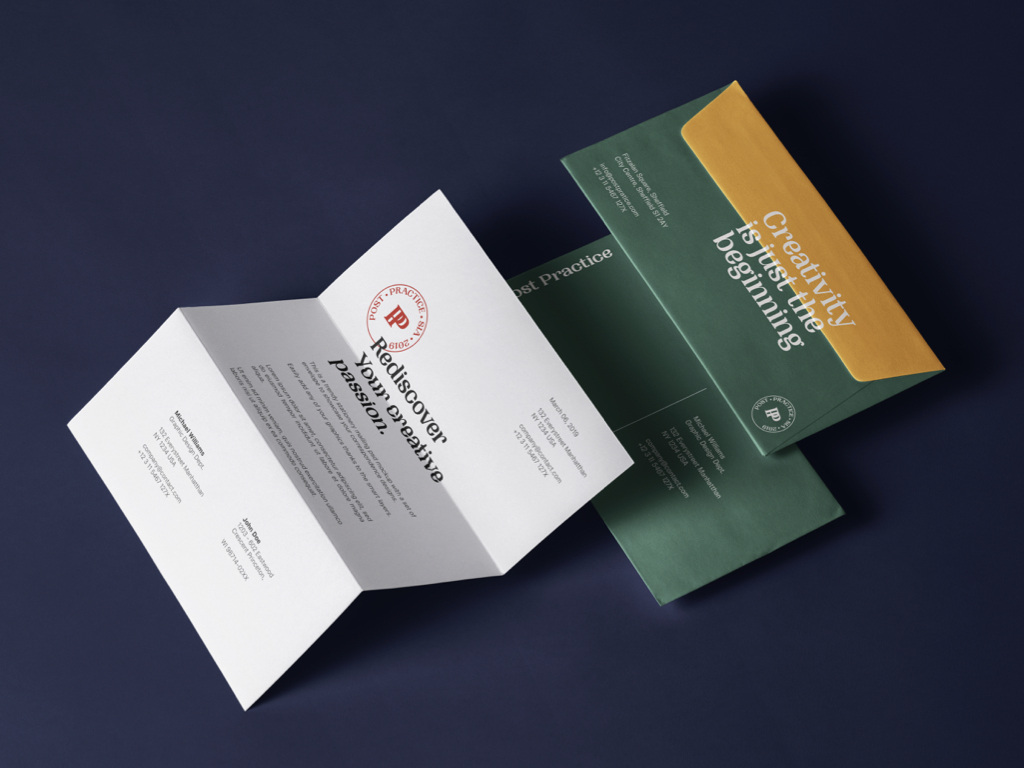 Welcome Pack ︎
Click to look inside the History booklet ︎
Click to look inside the Leisure booklet ︎
Click to look inside the Nourish booklet ︎
Click to look inside the Site Map ︎
Click to look inside the Sheffield Cultural Map ︎